POWER, ELEGANCE AND LUXURY -THE NEW PORSCHE 
The new 2018 911 Turbo S Exclusive Series Coupe from Porsche is the most powerful 911 Turbo S ever. The Coupe makes 607 horsepower and is limited to 500 units worldwide. In addition to an increase of 27 horsepower, the 911 Turbo S Exclusive Series distinguishes itself from other 911 Turbo S models with its unique design, specialty materials, and luxurious details. The sports car is being meticulously finished by hand in the new Porsche Exclusive Manufaktur at Porsche AG's headquarters in Stuttgart-Zuffenhausen. Previously known as "Porsche Exclusive," the in-house workshop specializes in customization and is responsible for limited-edition vehicles. For the first time ever, Porsche customers can have the optional matching chronograph from Porsche Design configured in the same specification as their car.
Increased power and performance
The 3.8-liter, twin-turbo flat-six engine with a power kit delivers a maximum torque of 553 lb.-ft. between 2,250 and 4,000 rpm. This results in the 911 Turbo S Exclusive Series Coupe accelerating from 0 to 60 mph in 2.8 seconds, and it takes 9.6 seconds to cross 124 mph making it 0.3 seconds faster than the standard 911 Turbo S. The top track speed is 205 mph. The 911 Turbo S Exclusive Series comes standard with 20-inch center-lock wheels painted in black, with highlights carefully finished in Golden Yellow Metallic using a new laser technology. For the first time, the brake calipers for the Porsche Ceramic Composite Brake (PCCB) system are available in black with the Porsche logo in Golden Yellow Metallic. The active sports chassis with Porsche Active Suspension Management (PASM) and the Sport Chrono package are included as standard. Rear-axle steering and Porsche Dynamic Chassis Control (PDCC) further enhance handling and stability.
Exceptional design
What makes the 911 Turbo S Exclusive Series Coupe so distinctive is the exclusive Golden Yellow Metallic paint finish and various carbon fiber components, including the front trunk lid, roof, and side skirts. The two carbon-weave strips that contour the roof and front trunk lid accentuate the sporty look of the car. The rear view is characterized by the rear wing of the Turbo Aerokit, a new rear fascia, and the exhaust system with twin tailpipes which are finished in black. The fenders are decorated with Porsche Exclusive Manufaktur plates. In addition to Golden Yellow Metallic, the vehicle is offered in other select exterior colors.
Interior craftsmanship
The interior is both elegant and unique. The 18-way adjustable sports seats are covered in perforated leather. The inside layer has two stripes in Golden Yellow, creating a unique effect. The seams and the Turbo S lettering stitched into the headrests are also finished in Golden Yellow, and the roof lining is made of Alcantara with a Golden Yellow double-stripe look. Fine copper thread is integrated into the trim strips of the carbon fiber interior package. The plate featuring the limited-edition number on the passenger's side underlines the car's exclusivity. The door sill guards, also finished in carbon fiber, include illuminated Exclusive Series lettering.
Truly hand-crafted
For more than 30 years, Porsche customers have been able to enjoy extensively customized individual components. With the introduction of this new limited production vehicle, Porsche is beginning a new chapter: Porsche Exclusive will now be presented across the globe with the new "Porsche Exclusive Manufaktur" brand. This in-house workshop specializes in custom Porsche modifications. The range of services available also includes customer consultation, developing special equipment options for each model range, and producing limited production cars.
Exclusive Chronograph from Porsche Design to match the vehicle
The Porsche Design Chronograph 911 Turbo S Exclusive Series represents the first occasion where Porsche Design has released a Chronograph for limited production car customers with design features corresponding to those used in the vehicle. The exclusive Chronograph combines the characteristic features of Porsche Design watches with the character of the 911 Turbo S Exclusive Series Coupe. Its housing is made of lightweight titanium, and its black titanium carbide coating emphasizes its sporty design. The carbon dial is taken from the striking carbon weave stripes on the 911 Turbo S Exclusive Series and finished in the paint color used on the vehicle. The rotor design is modeled after the rims on the 911 Turbo S Exclusive Series and is painted in the same color. The winding mechanism features a typical Porsche center-lock with the Porsche crest on the movement.
High-quality accessories
Customers can also enjoy the unique Exclusive Series design outside their vehicle with the leather Exclusive Series luggage set that has been developed especially for customers who buy a vehicle from the limited production vehicle. The visual details on the luggage set as well as the dimensions of the two weekender bags, the handbag, and the garment carrier, are the perfect fit for the luggage space available in the 911 Turbo S Exclusive Series Coupe.
Pricing and sales launch
Suggested retail pricing for the 2018 911 Turbo S Exclusive Series Coupe will start from $257,500. The Porsche Design Chronograph 911 Turbo S Exclusive Series will be optionally available at Porsche dealerships for those who buy the vehicle, and can be ordered to the customer's requirements at the same time they order the vehicle. U.S. pricing for the watch has yet to be determined. The five-piece luggage set costs $6,324 and is available to owners of the 911 Turbo S Exclusive Series Coupe in conjunction with delivery at the factory for customers who select European Delivery, or from the Porsche Tequipment range available for ordering at any Porsche dealership.
Fore more info visit : http://www.press.porsche.com
—————————————————————————————————————————————-
Bentley is British or German?
Why, after two decades of German ownership, are Bentley cars still so British?

We visit the company's Pyms Lane factory to find out.
The south-east corner of Cheshire, a county in north-west England, is an unexpectedly bucolic realm of meadows enclosed by leafy hedgerows and sheltered by copses, and of pretty towns and villages, many of whose buildings date back hundreds of years. It's especially lovely in late April, when blackthorn, wild cherry and hawthorn blossom adorn the trees, though the area isn't entirely idyllic.
Smack in the middle of this verdant landscape, as if transplanted from a more mundane universe, is Crewe, an industrial settlement that sprang up around a railway junction in the 19th century. Indeed, so synonymous with its train station is this workaday red-brick community that it was immortalised in a music-hall song: "Oh! Mr Porter, what shall I do? I want to go to Birmingham and they're taking me on to Crewe … "
There is, fortunately, a more compelling reason to visit this town of some 70,000 people than simply getting off at the wrong station. It goes back to the years immediately before World War II when, in an effort to boost air defences, the British government built aircraft factories around the country. One, an aero-engine plant run by Rolls-Royce, was constructed beside a railway line on the outskirts of Crewe – and from these same buildings some eight decades later now roll out some of the most painstakingly crafted and luxurious automobiles in the world.
Today the headquarters of Bentley ,Rolls-Royce Motor Cars moved to new premises in southern England after the two brands divorced in the late 1990s – this grid of low, largely '30s structures quietly bustles with activity. Now owned by Volkswagen AG, it not only produces an impressive number of cars each year (the 11,817 in 2016 was the greatest annual output ever), but it also serves as a centre of excellence for the VW group, assembling all of the 6-litre, W12 engines used across a range of Bentleys and upmarket Audis. Additionally it manufactures a relative handful of 6.75-litre V8s, a venerable motor that dates back to the 1950s and currently powers the wonderfully anachronistic Mulsanne limousine, the latter as much a force of nature as it is a motor car, thanks not least to its earth-moving levels of torque.
This is my second visit to Bentley's Pyms Lane factory in two years, during which I'm given an opportunity to drive a trio of the company's latest offerings, as well as to immerse myself in the more traditional aspects of motor manufacturing – labour-intensive craft skills passed down the generations, which continue to thrive alongside a selective use of state-of-the-art automation and robotics. My guide, is a company veteran of more than three decades, who started out as an apprentice working with leather in the trim shop but now, impeccably turned out in a navy-blue Savile Row suit, serves in an ambassadorial role.
He says it takes 132 man-hours to build a Continental GT, 30 of which are driven off the production line each day, as opposed to a minimum 500 hours for a Mulsanne, whose manufacture involves a far greater degree of human intervention. "I say minimum," he explains, "because you can have an extended-wheelbase Mulsanne, or a metre stretch with cocktail cabinets in the back, and that's, kind of, how long's a piece of string?" Unsurprisingly, only three of these biggest Bentleys are completed each day.
Although not everything is produced on site – for example, Bentayga SUV and Continental GT bodies are shipped in from Slovakia and Germany respectively, while 4-litre V8 engines for the Conti and Flying Spur come in fully assembled from Hungary – Bentley is unusual among motor manufacturers in that key processes such as design, research and development, craft skills and manufacturing are all grouped together in a single geographic location. That includes the company's personal-commissioning operation, Mulliner, which was founded as an independent coachbuilder in the 19th century and then bought by Rolls-Royce in 1959, becoming a Bentley subsidiary almost 20 years ago.
Now housed in its own premises on Pyms Lane, and offering everything from specially engineered and built Bentleys to relatively simple touches such as non-standard colours, embroidered headrests and personalised treadplates on door sills, Mulliner has a team of some 60 employees variously involved in design, engineering, coachbuilding, cabinetmaking, fabric trimming and marketing, and currently produces around 200 one-off cars each year. Among such vehicles are the pair of State Limousines for Queen Elizabeth II, delivered in 2002, and the more recent metre-stretch Mulsanne Grand Limousine, a dozen of which were designed, re-engineered and built over an incredible 14-month period and are among the most luxurious – and certainly the longest – OEM (original equipment manufactured) motor cars in the world.
Rather less ambitious, though no less desirable, is the dramatic, all-black Mulsanne Speed specially commissioned by watch customiser and Bentley buff George Bamford. Mulliner has also created a Bentayga equipped with everything a dedicated angler would need for a day on the river – from fishing tackle stowed in cabinets made from wood, leather and aluminium, and rods in leather tubes, to an equally exquisite refreshments case.
Artisanal skills such as these aren't confined only to Mulliner, however. Right beside the Bentayga line in the main factory I watch a team of craftsmen and women hand-sewing leather-clad steering wheels, a process so exacting that each person completes only two such items each day. In the wood shop, I enter a storeroom packed almost to the roof with stacks of wood veneers – thin sheets peeled as if by giant pencil-sharpener from the root balls of trees – that are expertly mirror-matched, lacquered and polished to a lustrous reflective sheen, and then affixed to dashboards, doors and consoles.
Intricate hand-made marquetry work is applied to glove-box lids and picnic tables, and though machines now cut the multi-hued leather and stitch the headrest emblems and monograms, all the Pasubio hides are inspected and selected using the human eye. As Lofkin says, "High-technology is fantastic and we embrace that, but we still need traditional skills."That Bentley heritage, which mixes engineering, craftsmanship, luxury, power, speed and – it must be said, Britishness – is made only too plain when, on my way out of the plant, I stop to admire a small selection of cars, each representing a key milestone in the company's history. It's a remarkable story, perfectly encapsulated by the two-seat, Le Mans-winning 3-litre of the 1920s, the magnificent 8-litre grand tourer of 1930 and the sleek yet voluptuous grace of the 1958 S1 Continental Flying Spur – a four-door coupe with coachwork, naturally, by Mulliner.
Lofkin's passion for the company he's been with all his working life is palpable. "What's fantastic about Bentley as a brand," he says, "is that we're now back on the racetrack. We've got all the Continentals and the derivatives, and we have the Mulsanne and the different stretch versions. [In Bentayga] we have the fastest and most luxurious SUV in the world, and the Queen arrives at state occasions in a Bentley State Limousine.
"Powerful, sporty, practical, luxurious – Bentley is all of those things, and our competitors cannot tick all those boxes. No other brand does this. None."
---
BENTLEY LAUNCHING THE BENTAYGA
BY
Brit luxury car marque Bentley Motors has a new SUV in town. Dubbed the Bentley Bentayga, this stylish piece of work is touted to become one of the fastest, most powerful SUVs in the world.
Designed, engineered and handcrafted in Crewe, Cheshire in England, the Bentayga is made up of equal parts of elegance and muscle. On the outside, it sports four round LED headlamps that flank its large trademark matrix grille, flushed with its aluminium front fenders. The body is crafted with lightweight aluminium, with a panoramic glass roof as a standard. Inside, the cabin is decked in metal, wood and leather detailing that stay true to its philosophy of offering modern British luxury.
Additionally, the car is equipped with an all-new robust twin-turbocharged W12 powertrain. This 12-cylinder engine lets the car hit ultra-luxurious levels of power (at 447kW) and torque (at 900Nm). Furthermore, it is able to complete the century sprint in a whopping 4.1 seconds and hit a top speed of 301kph — quite a feat for a car from this category.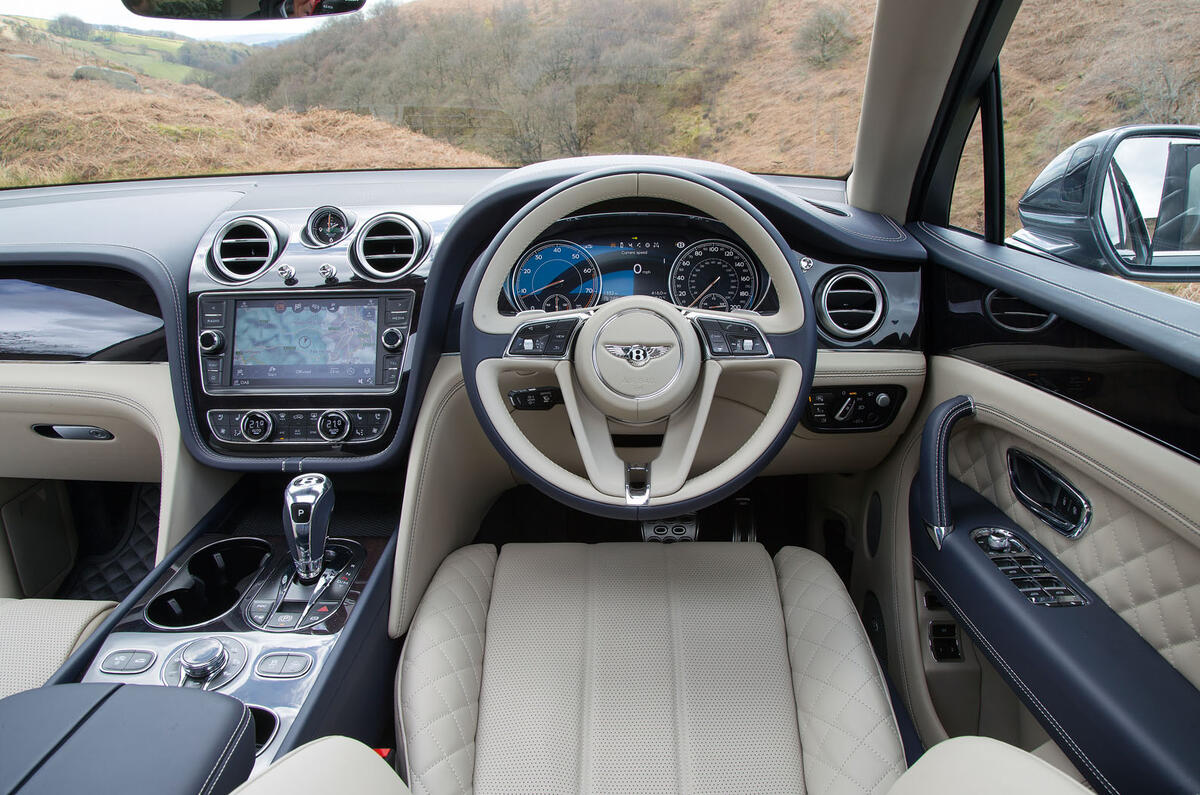 "The Bentayga is truly the Bentley of SUVs," says Wolfgang Dürheimer, chairman and chief executive of Bentley Motors. It redefines luxury in the SUV sector and offers a genuine Bentley experience in any environment, thanks to a combination of unparalleled attention to detail, go-anywhere ability and cutting-edge technology. With this extraordinary car, we are looking forward to an exciting period of strong growth and sales success for Bentley."
The Bentley Bentayga made its debut this month at the IAA Frankfurt Show with deliveries expected to commence early next year.